Art Loan Program     
The seARTS art loan program is an opportunity for artists to display and sell their work in public locations and an opportunity for businesses and organizations to show their support for the arts, and enhance their surroundings with beautiful paintings, photographs, sculptures, jewelry or ceramics.
The program is now in its sixth year (2013).  The signature program began at Bass Rocks Golf Club and has been successful in exposing the work of 15-25 new and returning artists each year.  In total, nearly $12,500 of artwork has been sold off the walls of the Golf Club.
A slide show will be posted after the opening reception on May 29. For a press release with complete information on this year's show, click here.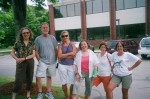 A second program had a one-year installation at Cape Ann Medical Center on Blackburn Circle, ending in 2011.
Each new installation kick-offs with an opening reception and the artists' work is promoted throughout the year.  Sold work is replaced.
Guidelines for interested artists
The artist gives seARTS a 30% commission for sale of the work.
All seARTS members are eligible to submit their work for the shows.
Each show is created with the host organization"s goals in mind juried by new jurors each year.
Guidelines for interested businesses or organizations
Host organizations must be a seARTS Annual Sponsor and agree to the terms and conditions of hosting the show.
Each show is juried by artists chosen by seARTS
Jury Awards of $50-$100 value are sponsored by local businesses.
Find out more in this overview document.
In 2012, the sponsors were:
For more information on the Art Loan program email us at info@searts.org.  seARTS welcomes the chance to discuss a program with your organization.
Art Loan 2011