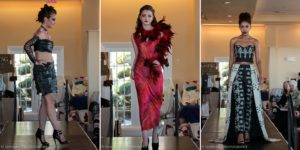 GLOUCESTER, Mass. (August 15, 2017) –The Cape Ann Museum and Society for the Encouragement of the Arts on Cape Ann (seARTS) are proud to present an evening of conversation with the Celebrate Wearable Arts(CWA) curators and artists on Thursday, September 7 from 6:30 – 8:30 p.m.. Guest will enjoy a panel discussion exploring expression on the human form and view video clips from the CWAIII 2015 fashion show. Space is limited; reservations required. Cost is $10 for CAM and seARTS members / $15 non-members. Tickets available online at Eventbrite or call (978)283-0455 x10. Please email info@capeannmuseum.org for more information.
Panelists are: Jay Calderin, Executive Director of Boston Fashion Week; Rick Crangle, CWAIII Best of Show Award Winner for 2015; Jennifer Varekamp, Mass Arts Fashion Design Professor; and Nell McKeon, AP Studio Art student at Manchester-Essex Regional High School. The panel will be moderated by Paula Richter, Curator for Exhibitions and Research, at the Peabody Essex Museum.
The Folly Cove Designers (1938 – 1969) – whose work is displayed at the Cape Ann Museum — led the way in "wearable art" on Cape Ann many years ago. Now the seARTS Wearable Arts group is an integral part of the contemporary art scene. CWA is an event that was created by the seARTS Wearable Arts group as an opportunity for creative "makers" to find new ways to showcase their artistry and for patrons of hand-made, one-of-a-kind jewelry, clothing and accessories to experience the art in full living color. The CWAIV runway event occurs biennially and will be held on October 1, 2017 (www.wearableart.org). The panel discussion at the Cape Ann Museum on September 7 will continue the discussion of the many forms and expressions of wearable art and will explore the work of some of the participating runway artists.
Panel moderator Paula Bradstreet Richter is Curator for Exhibitions and Research at the Peabody Essex Museum (PEM), Salem, Massachusetts. As part of the exhibition planning team at PEM she has participated in over 30 changing exhibitions and special projects, including national and international traveling exhibitions, historic and contemporary art installations, collection gallery installations and rotations. Paula was part of the exhibition team that brought the traveling exhibition, WOW® World of WearableArtTM, featuring 32 award winning designs from the National WOW® Museum in Nelson, New Zealand to the Peabody Essex Museum in spring 2017 for the enjoyment of audiences in the Boston area and beyond.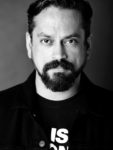 Panelist Jay Calderin has been described as "a budding designer's best friend" by The Boston Globe, and the LA Times called his first book "a new fashion bible for designers, aspirers and the just plain curious." He authored The Fashion Design Reference & Specification Book and Fashion Design Essentials and is the Founder/Executive Director of Boston Fashion Week. He is an instructor and Director of Creative Marketing at the School of Fashion Design, Boston. His new book What They Didn't Teach You in Fashion School will be released at the end of the year.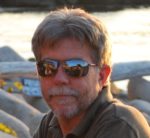 Panelist Richard Crangle creates refined sculptural forms and furniture that summon a reverence for nature, embracing the wood's natural character.  He incorporates time honored craftsmanship combined with contemporary expression.  Richard's inspirations include the coastal setting of his New England quarry studio, architecture and Japanese and Arts & Craft Masters.  Richard's experience in custom home building, furniture and architectural detail interplays as the foundation for his collection.  Using local, reclaimed, and exotic wood his vocabulary of abstract and organic themes and repeated patterns and textures evoke the inclusion of visual grace, movement and innovation.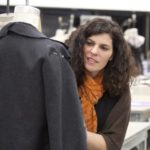 Panelist Jennifer Varekamp is a Professor in the Fashion Department at Massachusetts College of Art and Design. She is a Costume and Clothing Designer committed to sustainability. Recently, she designed the costumes for HoverDive, a collaborative dance project that focused on fluid dynamics and ocean science, including the impact of climate change on ocean life. Jennifer received her ED.M from Harvard University and her BFA from Massachusetts College of Art and Design. She has also studied at Domus Academy in Milan, Italy and at the London College of Fashion.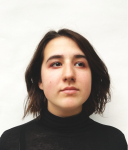 Panelist Nell McKeon is a senior at Manchester Essex High School and an AP Studio Art student. She works toward bringing art into her local community through governing the Manchester Essex Arts Honors Society. She has been working in 2D and 3D media throughout her high school career and used her first piece of wearable art as part of an application for Art Allstate, a highly competitive art installation program, which she participated in this year.
Image: Left to right. "Biker Chick" by Donna Caselden; "Mexican Sunset" by Selina Narovlansky (Judges Choice Award in 2015); RISD Student Redat Davison's winning "Untitled" (Best Runway Fashion Design CWAIII) ..
About Cape Ann Museum
The Cape Ann Museum has been in existence since the 1870s, working to preserve and celebrate the history and culture of the area and to keep it relevant to today's audiences. Spanning 44,000 square feet, the Museum is one of the major cultural institutions on Boston's North Shore welcoming more than 25,000 local, national and international visitors each year to its exhibitions and programs. In addition to fine art, the Museum's collections include decorative art, textiles, artifacts from the maritime and granite industries, two historic homes and a sculpture park in the heart of downtown Gloucester. Visit capeannmuseum.org for details.
The Museum is located at 27 Pleasant Street in Gloucester. Hours are Tuesday through Saturday from 10:00 a.m. to 5:00 p.m., and Sundays from 1:00 p.m. to 4:00 p.m. Admission is $12.00 adults, $10.00 Cape Ann residents, seniors and students. Youth (under 18) and Museum members are free. For more information please call: (978)283-0455 x10. Additional information can be found online at www.capeannmuseum.org.
For a detailed media fact sheet please visit www.capeannmuseum.org/press.
About seARTS
seARTS is a coalition focused on cultivating Cape Ann's position as a world-class center for working artists.  Established in 2000, seARTS is working to help to transform the region's economy by bridging its maritime heritage and a future powered by the arts. For more information on seARTS, visit www.searts.org.
PRESS RELEASE
For Immediate Publication
Contact: Courtney Richardson, Director of Education and Public Programs (978)283-0455 x12
courtneyrichardson@capeannmuseum.org