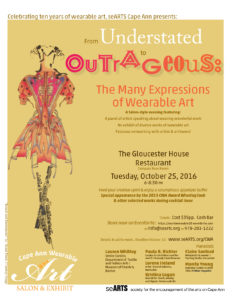 Book Tickets Now on Eventbrite or by sending a check for $35 to seARTS, PO Box 1476, Gloucester, MA. 01931 Attn:  2016 Wearable Art Salon.   Must be received by Thursday, October 20th if mailed in.
 The seARTS Cape Ann Wearable Arts group invites the public to its ten year celebration at a Salon-style evening featuring a panel of artists and curators speaking about wearing wonderful work! The event also includes an exhibit of jewelry, clothing, and accessories created by members of the group, and selected works displayed in a runway exhibit during appetizers and cocktails – with a special appearance of the award winning look by Rick Crangle from CWAIII 2015.
The Salon will be led by Lauren Whitley, Senior Curator, Department of Textile and Fashion Arts, Museum of Fine Arts Boston.    Lauren was co-curator of the recent #techstyle exhibition at the MFA will lead the panel:
As a curator at the Museum of Fine Arts, Boston, I have had the privilege of working with artists that push the boundaries between contemporary fashion and art, so I am especially thrilled to join this panel of talented artists, curators, and enthusiasts for an evening focused on the creativity and innovation happening today in wearable art." 
 The seARTS group has invited two highly qualified and respected artists and arts educators from the jewelry field – Claire Sanford Metalsmith & Jeweler, Top Dog Studio, Gloucester and Kristina Logan, Kristina Logan Glass Beads & Jewelry, Portsmouth, NH and from the non-traditional wearable art realm, Lorene Ireland, Ireland Galleries of Nantucket.  Lorene who is primarily a visual artist, has competed and won multiple times in the New Zealand WOW show with her shell designs – two of which have been part of Celebrate Wearable Art (CWA)  II & III.  Marcia Young, editor of Fiber Art Now Magazine brings the media perspective from this highly diverse side of wearables. 
The final panelist is Paula Richter, Curator of Research and Exhibitions from the Peabody Essex Museum.   This past week, the PEM has made public that it will be among the Museums in the USA (and the exclusive East coast venue) to host the traveling exhibit from the World of Wearable Art in New Zealand which will open in February 2017.  The show debuted in Hawaii 2015 and is on its way to Seattle before arriving at the PEM.  With the 2017 seARTS CWA show set for October 1, 2017, local wearable art lovers will now have a full year ahead for learning about and simply enjoying the "many expressions of wearable art."  
Reflecting on ten years of community building, Jacqueline Ganim-DeFalco shares this perspective.
I am honored to have been able to co-create [along with Beth Williams, Camilla MacFadyen and other local makers] this collaboration among like-minded artists on Cape Ann.  As creatives, our shows inspire all of us to stretch and experiment.   On October 25th, we will see and hear about many facets of wearable art – in fact, it's a wearable art 'mashup!'   We are sending the message that "wearable art" is for everyone to own and enjoy.  The artists who have participated in our shows have raised the bar for this genre of work throughout the region; are attracting artists from out of the area to show their work; and bringing lovers of wearable art here for a world class experience on Cape Ann!
The group's history:
Ten years ago a group of jewelers held a luncheon to recognize a local shop owner who has lovingly carried local artists work for over 35 years [Kathy McCarthy, London Ventures].  Following that lunch with the goal to work together, this group established themselves as a community inside of seARTS and held a Jewelry Design Salon at the Gloucester House in July 2007 as part of the seARTS Salon series.  Later that year, they launched a Holiday Show at the Pleasant Street Tea Company during Gloucester's Middle Street Walk in December.  In 2008, the Holiday show was moved to the Saunder's House of the Sawyer Free Library in what became an 8 year partnership and $$$ in sales of artist made goods.
In 2011, the five year mark, they raised the bar and sparked a new era for the seARTS Wearable Arts Group – the birth of Celebrate Wearable Art!  It's not just a runway show.  It's an opportunity for every creative "maker" to find a new way to showcase their artistry and for true patrons of hand-made, one-of-a-kind jewelry, clothing, and accessories to experience the art in full living color.    Biennial by design, the group is already working on the October 1, 2017 event.    A special feature of the 2015 show was the Celebrate Wearable Art panel at the Cape Ann Museum.   The quality and vibrancy of the discussion at the Museum was the impetus for the 2016 Salon.   This is also a great opportunity to get to know the Wearable Art committee and find out about getting involved in our next event  Celebrate Wearable Art IV (runway show), October 1. 2017
Artist Exhibit Application due October 12th