seARTS "Celebrate Wearable Art" Designers Make a Special Appearance at the PEM "WOW" Events this February
January 23, 2017                               FOR IMMEDIATE RELEASE
The seARTS wearable art community welcomes with much enthusiasm the upcoming

wearable art exhibit at the Peabody-Essex Museum (PEM).  The PEM  has recently announced that it is the exclusive east coast venue for WOW® World of WearableArtTM exhibit.  This exhibit presents "extreme wearable artworks from New Zealand's renowned annual design competition. WOW® World of WearableArtTM is presented as part of PEM's fashion initiative and will be dramatically installed at the museum from February 18 through June 11, 2017," according to the PEM press release.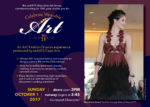 To augment the local flavor of Wearable Art, the PEM reached out to seARTS and invited a selection of artists from the 2013 and 2015 CWA shows to participate in the PEM PM event on February 16th and opening day events on February 18th.   The PEM PM third Thursday evening party series attracts hundreds of members, community members and visitors and includes food and signature cocktails.  The February 16th event will feature seARTS artists with these works:
Additionally, both Rick Crangle and Lorene Ireland will also be conducting demonstrations on opening day, February 18th.
The seARTS Wearable Art community of makers, designers, artists, make-up artists, and patrons – inspired by the New Zealand initiative – has been celebrating everything about this unique genre for over ten years, creating Cape Ann's own wearable art experience.  At the core of its efforts is collaboration with museums and other organizations that showcase textiles, jewelry, and wearable art exhibits.  In 2015, the Cape Ann Museum, which hosts the Folly Cove Designers, held a program as part of Celebrate Wearable Art III.  That event will continue in September of 2017.  In October 2016, the PEM and MFA were both part of the seARTS Salon "From Understated to Outrageous."
"With three runway shows, eight holiday shows, and three salon panel discussions under its belt, the Celebrate Wearable Art committee is reaching for the stars as it begins planning for Celebrate Wearable Art IV on October 1, 2017 to be held at Cruiseport Gloucester.   The group will be launching a new website later this month, WearableArt.org," according to Jacqueline Ganim-DeFalco, event chair.
The committee is actively seeking sponsors and partners to grow the event to make an even stronger contribution to the creative economy.  Celebrate Wearable art seeks to attract local and regional patrons who want to shop for beautiful works, wearable art lovers who simply want to be inspired by this creative art form, and artists who wish to put their talents to work in a new way. It's truly an authentic Cape Ann experience.  Later this month, seARTS will announce the "call for the runway" for the 2017 show.
PEM Members and Salem residents can register for free for PEM PM events.  Tickets and registration available on PEM.org.  Tickets are $12 for the general public.