A Magical Evening on Cape Ann: Tribute to Windhover's Legacy and Future:  guest post by Jacqueline Ganim-DeFalco
Cape Ann's

rich legacy of arts is a never ending series of pleasant surprises.  For those of you who missed Maureen Aylward' s  review of Windhover Center for the Performing Arts, please read more here.
For t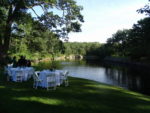 he few and fortunate that experienced the evening chez Brock estate in Lanesville, we are all very grateful to have witnessed the ethereal combination of a fairy-tale setting among twin quarries, world class dance, delightful cuisine, and an intimate, congenial, supportive arts loving audience.  The key is "arts-loving" because Windhover, along with the MARS/Manship initiative are among the diamonds-in-the-rough that will add to the crown of the arts and culture scene on Cape Ann.
The evening commenced with a tour of Dr. Brock's home over cocktails and a private art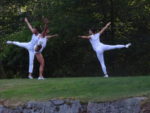 tour of Dr. Brock's collection comprised of many important 18th century French and English decorative arts, plus New Guinea art and pieces that he has commissioned from artists around the world.   The private catered dinner at tables by the quarry, was hosted by Dr. Brock and prepared by chef Linda Walcott.  The art both inside and outside was accentuated by the site-specific moving Quarry Dance performed by the highly acclaimed Dušan Týnek Dance Theatre – which has created and performed six Quarry Dances on Cape Ann, sponsored by Windhover over the past six years.   The audience followed the dancers from the ledges of the quarry to the expansive lawns and gardens to the tiered sculpture gardens under watch by twin sphinxes and an obelisk.    Among my favorite highlights of the evening was the opportunity to see the grounds take on a new perspective with lighting around key art pieces – the fountain over one of the quarries was simply breathtaking on a half-moonlit sky.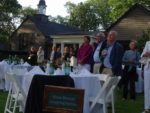 The message was clear.  Windhover is ready for a transformation to become a three season venue with a full program centered on dance.  Lisa Hahn who has recently purchased a new home down the road from the venue, is committed to take Windhover to the next level.  Windhover has a diverse following, but will look to the community to welcome dance as a more robust and visible part of the arts scene.  For more information about their plans, Lisa will host a series of tours of the facility and you can reach her here.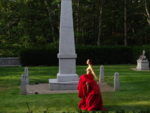 Thanks to the gracious and fully engaged host, Dr. Brock who shared his art collection and vision for Windhover and to Lisa Hahn for looking brightly to the future to carry out her mother's vision.