As of February 2017, you can find out everything about our Wearable Art Group & happenings here at WearableArt.org.
Below you will find information from our last Salon held October 2016!    See you October 1, 2017 at Cruiseport Gloucester.   Tickets here.
From Understated to Outrageous|The Many Expressions of Wearable Art
A 10 Year Celebration of Wearable Art:   Salon & Exhibit was held on October 25th, 2016.   You can read about the event here and view photos below in the gallery!   Save the date for Celebrate Wearable Art IV: October 1, 2017!   Watch out for WearableArt.org – coming soon.

Thank you to our amazing panelists!
Panel M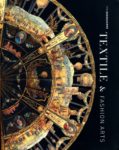 oderator/Leader:Lauren Whitley|Senior Curator, Department of Textile and Fashion Arts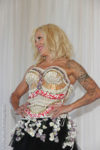 Lorene Ireland| Ireland Galleries, Nantucket –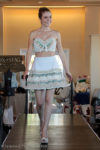 a many time award winner of the World of Wearable Art competition in New Zealand – Lorene has had works in two Celebrate Wearable Art shows here in Gloucester!
Kristina Logan| is recognized internationally for her glass beads. She is an indepe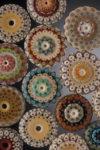 ndent artist who lives and works in New Hampshire.She was one of only four artists selected for exhibition in the Smithsonian American Art Museum's Renwick Gallery Invitational : Four Discoveries in Craft, 2002. "Logan"s beads exist in their own right as art… ", writes Kenneth Trapp, Curator-in-Charge at the Renwick Gallery.

Paula Bradstreet Richter is Curator for Exhibitions and Research at the Peabody Essex Museum and previously served as Curator for Textiles and Costumes. Paula writes and lectures on American textiles, fashion, and New England art and decorative arts. She has a degree from the University of New Hampshire. Paula grew up in Gloucester, attended local public schools, and began her museum career at the Cape Ann Museum.   Paula was a Runway judge for CWAII in 2015.   Paula will provide a sneak-peek at what's to come at the 2017 WOW Exhibition to be hosted at the PEM.
Claire Sanford |Metalsmith and jeweler, Life Trustee of Haystack School  and Resource Council for the Society of Arts and Crafts in Boston.  Claire wa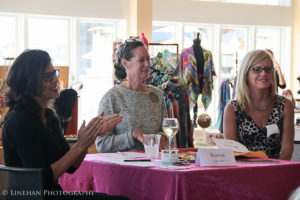 s instrumental in helping bring together the jewelers on Cape Ann by presenting at our 2007 Jewelry Salon and she was most recently a judge at CWAIII!  Claire also entered a piece in the  CWA I 2011 at Bass Rocks.
Marcia Young|Publisher | Editor in Chief, Fiber Art Now Magazine
______________________________________________________________
Celebrate Wearable Art III – Show Wrap Up & Photo Galleries!
seARTS presented its 3rd Celebrate Wearable Art benefit on September 27th, 2015.

Save the date for Celebrate Wearable Art IV: October 1, 2017 Cruiseport Gloucester.
If you attended and want to relive the experience or if you didn't attend and want to find out more, you can watch   Celebrate Wearable Art III 2015  here  thanks to Cape Ann TV.
Thank you to all who attended the 2015 Show! Below you can see the SlideShow of the show below and on the left blog posts 2015 Wearable Art Awards
and also the fun happening "Behind the Scenes!"  Congratulations to our 2015 Best of Show artist, Rick Crangle for his Woodland Dress ensemble shown on the left.

In the link provided by Clark Linehan, you can download jpegs order printable photos from the show!  LINK TO CLARK'S FLICKR ALBUM

If you would like to see the Program from the Event and find out more about the artists in the show, you Program WAIII Sept28
CWA II 2013

 "WearableArt' is a foreign affair using a language all its own with dialects of fabric, flowers, and everyday items that translates into an experience which speaks to our esthetic and, hopefully, puts a smile on our face."
Many thanks to all the Sponsors and Partners who made this show a success!   Together we raised money for seARTS and also helped support local and invited artists through $13K in sales!   Special thanks to the creative & stylist talents of Martha Sutyak, Darlene Sweeney, Deborah Coull, Linda Stockman, and Clark Linehan.  We have highlighted sponsors on the seARTS sponsor page!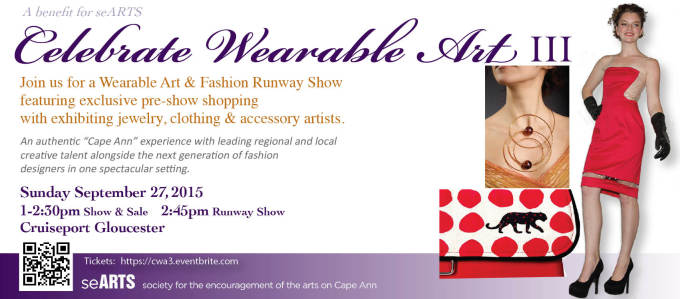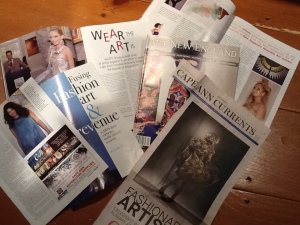 So what is it and what is all the buzz is about?   Celebrate Wearable Art (CWA) is a half-day event that showcases hand-made, one of a kind art-to-wear for sale and for show. The event has two parts – a "sale" of locally made clothing and accessories and a runway show that combines art-to-wear, fashion, and sculptural, functional wearable art by creative artists from all parts of the local economy.
This event has recently been chosen to be the biennial fundraiser for seARTS.  In 2015, it will kick off Boston Fashion Week  and ties the north shore of Boston into the Boston Fashion Trail by way of Gloucester. Full slide shows of the 2011 and 2013 can be viewed by checking out the links on the left hand side of this page.
The event premiered in 2011. The inaugural show showcased 80 looks across 35 artists and designers from throughout New England and as far as New York. Ten thousand dollars worth of artwork sold, of which 75% went directly into the hands of artists. The overwhelming success and passion around the event from attendees created a groundswell for 2013.
The 2013 Show showcased over 100 looks with 50+ artists and $19K worth of artwork sold.  Artists, designers, and models came from all strata of the North Shore from local Manchester High School students, Montserrat College of Art students, local celebrities (author Wendy Booker, national spokesperson for MS among them, Sista Felicia – Gifts of Gold cookbook), to local floral designers from Sage Floral Studios. It was a melting pot of the creative economy. Our Emcee both years was Steve Aveson, anchor for NECN.
Wearable Art Awards were given out for the second time with judges from Art New England, the Peabody Essex Museum and Montserrat College of Art presiding.  seARTS is grateful  to the artists and  many community participants that donated hours, days, and weeks  of their time to make this event a success and one that shows off the deep creative roots of Cape Ann!
We invite you to read more in the fabulous coverage we received from local and regional publications by looking at the 2011 and 2013 show pages.   Here's a top line:
Cape Ann Magazine, Fusing Fashion, Art, & Revenue

Art New England, Wearable Art Outside the Urban Centers