Celebrate Wearable Art IV runway event this weekend! Join us October 1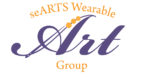 The plans for seARTS the October 1, 2017 Celebrate Wearable Art IV (CWAIV) runway show and benefit are in full swing with a curated Wearable Art Marketplace,  newly designed artist awards, VIP runways judging panel,  and a reserved ticket seating plan at Cruiseport.   All the show information is now conveniently located on the new website: www.wearableart.org,  Celebrate Wearable Art on Cape Ann is the northeastern tip of Boston Fashion Week's activities.
CWAIV is a multi-faceted event that includes artists, designers, makers, and creative businesses. The recent World of Wearable Art ExhibitÔ at the Peabody-Essex Museum was wonderful reinforcement of the efforts of this group.   A selection of seARTS artists were part of the opening events of the exhibit earlier this year.
Chair, Jacqueline Ganim-DeFalco describes wearable art as "boundaryless" in terms of the genres of makers it attracts and the opportunity to collaborate with curators and organizations across the art and fashion spectrum.   The 2017 CWAIV show includes the highly imaginative and outrageous works out of unusual materials as well as art-to-wear every day.
Here's what you need to know to be part of this exciting showcase on October 1.
The Runway:  The 2017 CWA runway will showcase of Cape Ann's most talented artists alongside regional and international makers of wearable art and fashion.   The response to the call for art this year has been phenomenal with many returning artists as well as first time entrants.  This year's runway includes several internationally acclaimed designers:  Nantucket's  Lorene Ireland, an many time award winner at New Zealand's World of Wearable Art; Carter Smith of Nahant, who has led the country in creating original Shibori designs, and Jane Wilson-Marquis, New York City, couture bridal and evening wear.  Regional artists and designers cover the full spectrum of exquisite hand-made, one of a kind fashions, jewelry, and accessories.
This year's event has also attracted an impressive array of students at all levels.  Manchester-Essex Regional High School designed an AP Wearable Art class and will have all of its student looks on the runway.   One of the key features of the runway is the detailed descriptions of each look presented by celebrity hosts.  This year Celebrate Wearable Art welcomes Elizabeth Hopkins from Boston25 and Marilyn Schairer from WGBH to the stage to present the runway line-up.
"Our goal for 2017 is of course to have a successful Wearable Art benefit, but also to surpass our previous runway shows with the level of artistry and pure excitement! Some of us need just a little reason to dream up something marvelous, and THIS IS IT, says Martha Sutyak of Beverly, the CWA runway lead curator and stylist.
The Wearable Art Marketplace: The following artists will exhibit and sell work before and after the runway show: J.M. Syron and Bonnie Bishoff, (Maine) Marlene Cann, (Gloucester) Joanne Demetra (Rockport) Jacqueline Ganim-DeFalco, (Gloucester) Christine Gauthier-Kelley, (Manchester, MA) Pavlina Gilson, (Manchester, MA)Jennifer Greeke, (Gloucester) Sonja Grondstra, (Swampscott) Susan Kenna, (Beverly) Camilla MacFadyen, (Gloucester) Nurit Niskala, (New Hampshire) Fran Osten, (Newton) Barbara Poole, (Lowell) Regina Loiacano, (Gloucester) Kiki Taron Kinney, (Marblehead) Beth Williams, (Gloucester) Meegan Williams, (Salem) and Sara Wright. (Rockport).  With the addition of Meegan Williams, the Marketplace will include a menswear line for the first time.
Awards: The new focus on awards is an important step in the evolution of CWA.  The committee has carefully designed the following awards to help encourage artists to experiment in new ways.  Awards will be supported through sponsorships – both cash and in-kind.   Looks will be awarded on-site by a group of VIP judges from the design and wearable art community
     The seARTS Best of Show Award – Sponsored by J.Barrett & Co.
     Coastal Inspiration Award – Sponsored by Flagship Motors-Mercedes Benz
     Eco – Upcycled Award – Sponsored by Common Crow
     Architectural Award – Sponsored by Joslin-Epstein and the Hamilton Group
     Student Innovation Award – Sponsored by Bank Gloucester
VIP Judging Panel:   The CWA committee is pleased to welcome these accomplished art
curators and fashion experts to the panel of judges.    Lauren D. Whitley, senior curator in the David and Roberta Logie Department of Textile and Fashion Arts at the Museum of Fine Arts, Boston.   is senior curator in the David and Roberta Logie Department of Textile and Fashion Arts at the Museum of Fine Arts, Boston, where she helps oversee a collection of 55,000 textiles and costumes. Lynda Roscoe Hartigan, The James B. and Mary Lou Hawkes Deputy Director, Peabody-Essex Museum; Jennifer Varekamp: Professor of Fashion Design, Mass College of Art and Design.    "Wearable Art is an important niche that crosses many boundaries.  Day-to-day, we celebrate "makers" who create and sell their work.  But our local Wearable Art Group and CWA committee have systematically invited world class arts and educational institutions and reached across geographies so that together we can build a strong wearable art community," CWA Chair, Jacqueline Ganim-DeFalco comments, "Participation from this distinguished panel of judges further validates the importance of the journey we started eleven years ago."
New seating plan: All ticket buyers now have access to reserve seating via Eventbrite.  Tickets are $150 at tables of six.  $185 tickets at Runway SideTables are available on a very limited basis online. Using Eventbrite, buyers can open up a map of the room and choose their seats.
Bike Drawing:   Through the generosity of BMW Peabody, seARTS will benefit directly from a drawing for a BMW Cruising bike, visit WearableArt.org/promotions  50% of the money raised will benefit the Harvey Arts Recovery Fund in Texas.
Supporting Sponsors: seARTS is pleased to welcome the following sponsors:   Art New England Magazine, Beauport Hotel, Beauport Financial Services, BMW Peabody, Cape Ann Savings Bank, Flagship Motors/Mercedes Benz, J. Barrett & Co., Minuteman Press, the Peabody-Essex Museum, and North Shore Magazine.
About seARTS:  seARTS is a coalition focused on cultivating Cape Ann's position as a world-class center for working artists.  Established in 2000, seARTS is working to help to transform the region's economy by bridging its maritime heritage and a future powered by the arts. For more information on seARTS, visit www.searts.org.
Sampling of Artists on the runway from the North Shore:
Jennifer Greeke Gloucester
Barbara Poole – – Lowell
Eileen Mueller – Rockport
Pavlina Gilson –Manchester by the Sea
Camilla MacFadyen – Gloucester
Sage Floral Studio – Gloucester
Christine Gauthier Kelly   Manchester by the Sea
Jane Wilson Marquis – New York City
Syron-Bishoff Designs: Brunswick, ME
Kiki Taron Kinney Marblehead