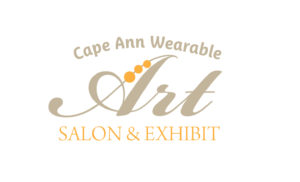 Application to Exhibit for October 25th, 2016  seARTS Wearable Art Salon: 10th Year Anniversary
Gloucester House: Compass Rose Room
6-8:30 PM
DEADLINE FOR ENTRY: Wednesday October 12, 2016
The committee seeks work from any artist who has participated in previous shows, is a current seARTS member, would like to join the Wearable Art group or would simply like to enter a piece in the show. We will create and curate an exhibit on site and also have selected "looks" walking around the room during the cocktail and appetizer hour.  This is an opportunity to get to know new artists who would like to become involved in the 2017 Runway show as well!
Save the Date:  October 1, 2017 for Celebrate Wearable Art IV
We encourage all artists involved in the category to submit a photo of your most artistic piece or "look" for this exhibit – something that is already in your collection.
Please send labeling information and be sure your piece is labeled when it is delivered. We will be soliciting specific pieces from past runway shows, but if you would like to be considered for the living display, please let us know.
No work will be sold at this event, but list your website and upcoming shows in a sheet that will be handed out at the event.
Please fill out the following form online or off-line and remit payment in one of the following ways. You must either be a seARTS Member (Annual individual membership is $50 and other categories are available as well http://searts.org/wp/joinsupport/ OR pay a $25 entry fee.
IN ORDER BE SURE THAT YOUR APPLICATION HAS GONE THROUGH, LOOK FOR THE CONFIRMATION AT THE BOTTOM OF THIS PAGE AFTER YOU SUBMIT THE FULL APPLICATION.