Celebrate Wearable Art II: September 2013
Celebrate Wearable Art II was held September 29th 2013 during Boston Fashion Week.  Many thanks to the 2013 supporters who made it possible:
The Boston Foundation, North Shore Magazine, Axis Promotions, Gloucester Engineering, Cape Ann Savings Bank, Kathy Hamilos, and more.
The runway was stunning thanks to co-stylists Helena Williams and Ericka Morris with hair & makeup by Deborah Coull and John Sheehan and a detailed script prepared by Maureen Aylward.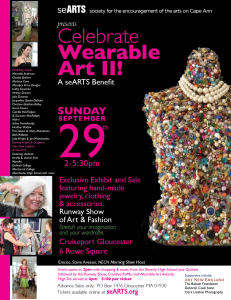 The 2013 Show showcased over 100 looks with 50+ artists and $19K worth of artwork sold.  Artists, designers, and models came from all strata of the north shore from local Manchester High School students, Montserrat College of Art students, local celebrities (author Wendy Booker, national spokesperson for MS among them, Sista Felicia – Gifts of Gold cookbook), to local floral designers from Sage Floral Studios. It was a melting pot of the creative economy. Our Emcee was Steve Aveson, anchor for NECN.
Thank you to the arts media that covered our event.  Art New England 's Spring 2014 issue to read Rachel Shipps article Wearable Art Outside the Urban Center  and  click here to download  Cape Ann Mag 2014 Spring   article by Gail McCarthy: Fusing Fashion Art & Revenue!
For a seARTS WAII programSM Final listing all the designers, sponsors, and artist vendors, click here!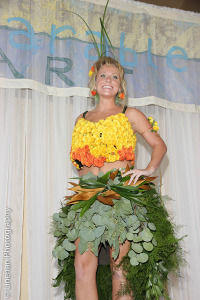 Wearable Art Awards were given to: Sage Floral Studios, Selina Narov & Hannah Thorne – congratulations to all!
See Slideshow of 2013 CWA II below or link to photos here for easy downloading
[portfolio_slideshow id=4194 pagerpos=disabled size=large]
The 2013 Slide Show
[popup-slideshow id=4194 text="Click here to view"]