American Style FAQ & Toolkit:
What is American Style?
American Style is a publication that focuses on Art, Craft, Travel and Interior Design and is an excellent resource for artists and art enthusiasts as it publishes the top art events across the country, highlighting select destinations and profiling individual artists. The idea to pursue this campaign came out of a seARTS strategic planning initiative to look at how great art communities get noticed throughout the country.
Why is this important to me as an artist or arts organization?
Our community earned this distinction and it's up to all of us to "own" it and use it in our publicity. It puts Cape Ann on the map with other major art towns like Sante Fe. Cultural tourism is the fasting growing part of tourism on Boston's North Shore – so we need to bring the cultural tourist to our doorstep.
How Can I take advantage of this designation?
You can put the logo on your website, Facebook page, LinkedIn profiles and other web properties. You can use in your newsletters, personal emails (as a signature), press releases, and announcements.
Toolkit: Resources & Examples
seARTS Press Release (to the left)
Logos for use on website (below)
Sample uses on Cape Ann & Beyond (to the left)


Download Web Quality Banner 3000x600px 126k
Download Print Quality Banner 399k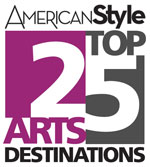 Download Web quality 517x576 56k
Download Print Quality 517x576 159K